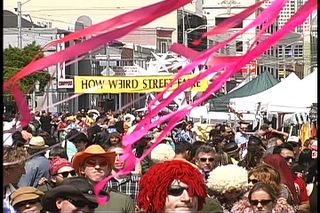 Once again Howeird Street faire took over the streets of San Francisco. Now in it's 6th year. We setup a 20x20 tent in the middle of the intersection surrounded by 4 sound systems. Inside the tent we blogged, VJ'ed and chatted online all via a wireless connection. 1000's of freaks showed up to dance in the streets of SF.
There are a few street fairs in San Francisco where dancing naked in the street is acceptable, Halloween, Decompression, Folsom St. Fair, Pride, How Weird and Bay to Breakers.
checkout: http://www.howweird.org/index.html
movies to come soon.